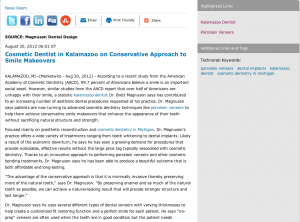 Kalamazoo, MI — According to a recent study from the American Academy of Cosmetic Dentistry (AACD), 99.7 percent of Americans believe a smile is an important social asset. However, similar studies from the AACD report that over half of Americans are unhappy with their smile, a statistic Kalamazoo dentist Dr. Brett Magnuson says has contributed to an increasing number of aesthetic dental procedures requested at his practice. Dr. Magnuson says patients are now turning to advanced cosmetic dentistry techniques like porcelain veneers to help them achieve conservative smile makeovers that enhance the appearance of their teeth without sacrificing natural structure and strength.
Focused mainly on prosthetic reconstruction and cosmetic dentistry in Michigan, Dr. Magnuson's practice offers a wide variety of treatments ranging from teeth whitening to dental implants. Likely a result of the economic downturn, he says he has seen a growing demand for procedures that provide noticeable, effective results without the large price tag typically associated with cosmetic dentistry. Thanks to an innovative approach to performing porcelain veneers and other cosmetic bonding treatments, Dr. Magnuson says he has been able to produce a beautiful outcome that is both affordable and long-lasting.
"The advantage of the conservative approach is that it is minimally invasive thereby preserving more of the natural tooth," says Dr. Magnuson. "By preserving enamel and as much of the natural tooth as possible, we can achieve a natural-looking result that will provide stronger structure and last longer."
Dr. Magnuson says he uses several different types of dental veneers with varying thicknesses to help create a customized fit restoring function and a perfect smile for each patient. He says "no-prep" veneers are often used when the teeth are in good condition but the patient needs straightening or covering of imperfections and discolored teeth. "Minimal-prep" veneers are designed to help correct chipped or worn-away teeth by smoothing out the surface and providing a clean surface on which to bond the veneer. Dr. Magnuson says although these techniques can address a number of patient concerns, sometimes a more involved cosmetic procedure may be needed in the event of highly rotated teeth. However, he says the goal is to implement the most conservative techniques possible in order to achieve the desired results.
"Either approach can be used to achieve beautiful looking teeth and restorations," he says. "With a traditional, invasive approach, the patient can end up with teeth that are no longer strong enough for a lifetime of function, whereas with a conservative approach, they can end up with stronger, longer-lasting results and less complications."
Regardless of which method patients determine is the right fit for their needs, Dr. Magnuson says anyone considering cosmetic dentistry procedures such as porcelain veneers or dental implants should be sure to consult with an experienced and qualified dentist. He recommends conducting extensive research into a practice and looking at before and after pictures of actual patients to see if the results are actually indistinguishable from natural teeth before undergoing any treatment so as to ensure the safest, most effective outcome.
About Brett Magnuson, DMD
Dr. Brett Magnuson is a graduate of the Southern Illinois University School of Dental Medicine and has dedicated numerous hours to his continued education. He is an Accredited Member of the American Academy of Cosmetic Dentistry, as well as an Accreditation Examiner for the AACD and a member of the American Board of Cosmetic Dentistry. Dr. Magnuson has been selected as one of America's Top Dentists by the Consumer's Research Council, and regularly volunteers his time and services to help local and international charity organizations.
Located at 2901 S Westnedge Avenue in Kalamazoo, MI, Magnuson Dental Design can be reached at 269.205.6160. It can also be contacted online via the website michiganbeautifulsmiles.com or facebook.com/MagnusonDentalDesign.