Implant supported dentures, also known as anchored dentures, use a special attachment to provide a more secure and stabilized fit when compared to traditional dentures. Unlike regular dentures that rest on the gums, implant supported dentures "snap" into place with dental implants that have been fused to the jawbone. As a result, the dentures look and function more like natural teeth. Patients no longer have to worry about their dentures slipping or falling out, and they can eat, speak, and smile with a greater sense of comfort and confidence! If you are a current dentures wearer and are dissatisfied with their fit and feel, Merit Dental can help you enhance the appearance and function of your teeth with implant dentures.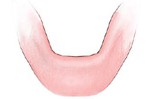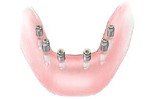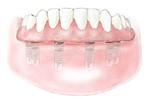 All-on-4® Dental Implants Procedure
One method of anchored dentures Dr. Magnuson offers patients is the Nobel Biocare®'s All-on-4® technique. As a same-day procedure, All-on-4® uses four special implants to provide patients with the immediate placement of implant supported dentures. One implant is placed on each side of the upper and lower parts of the mouth, and full sets of dentures are placed on the implants. Because the All-on-4® technique uses angled posterior implants, it also reduces the need for bone grafting, and it can often be used for patients who have minimal bone density.
During the procedure, patients are given gentle oral sedation. An advanced 3D dental implants planning system will be used to map your implants prior to the surgery. Once surgery is complete, you will have a set of new, fixed teeth that should feel and function like natural teeth. These teeth, however, are provisional, and later you will have numerous options in selecting a final durable, prosthetic. The results of All-on-4® can offer patients long-lasting, beautiful results that provide both increased comfort and functionality.
What Are The Benefits of Implant Supported Dentures?
There are a number of benefits patients can enjoy with implant supported dentures. While traditional dentures are a viable option, implant supported dentures offer several distinct advantages over them, including:
Natural-looking, aesthetically-pleasing results
No adhesives or pastes
Alleviation of bad breath associated with dentures
Restored functionality and ability to chew, drink, and speak normally
Increased comfort
Simplified maintenance – dentures can be cleaned and brushed the same way natural teeth are cared for
Reduced potential for bone atrophy
Who Is A Good Candidate for Implant Supported Dentures?
Candidates for implant supported dentures include patients who:
Are missing all or multiple teeth
Are seeking a more secure form of denture
Have enough jawbone density to support dental implants
During your consultation with Dr. Magnuson or Dr. Caringella, they will conduct a thorough evaluation to determine whether you are a good candidate for implant supported dentures. Depending on your individual needs, there are many options in anchoring full or partial dentures. Our cosmetic dentist will discuss the different aspects with you and help you consider all options before recommending a particular treatment plan.
If you would like more information regarding implant supported dentures, or to schedule a consultation with Dr. Magnuson or Dr. Caringella, please contact us today.